Welcome to our Cattery located in IRELAND.
World renowned breeder of top quality Bengals Cats.
Irelands number 1 and longest established breeder of Bengal cats since 2009.
We selected our cats from the very best breeding lines in the world and crossed these lines to produce spectacular kittens.
SUNSTORM cats can now be found in the pedigree's of cats owned by most of the best breeders around the world.
Our reputation as registered reputable breeders of quality cats speaks for itself.
Our kittens are known for their superb muscular wild type, stunning leopard patterns on luxurious coats with gorgeous colour and extreme contrast. We breed extremely healthy, active and intelligent cats a trait probably inherited from the wild cat's natural selection for survival in the jungle. Bengals are the only domestic cats that have rosettes. The rosette gene is inherited from the wild A.L.C.
Click on the image below to go to the available kittens page.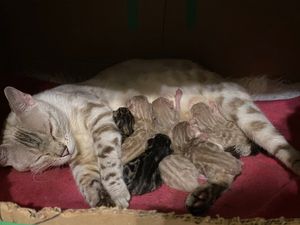 See us on Facebook by clicking the icons
Since 2011 we have held a Outstanding
Cattery Certificate and rated excellent.