Here we have featured a selection of articles and information some of which is gathered from the WorldWideWeb to help you further understand the breed.
NOTE: Articles have their respected copyright owners! Most articles are collected from the top rated 100 Bengals webpages on the internet
and thus we take no responsibility, since we are not the author. We have provided credits and if you do not agree,
please contact the original copyright owner. For all bengal specific info , please check your local club.
F.A.Q. and Answers

How much of a down payment is required? €250 for a pet kitten , €500 for a show/breeder kitten
What is your waiting list and down payment policy? A deposit will place you on our waiting list and people on the list will have first chance of available kittens.
Does the price include spay or neuter for a pet purchase? YES All of our pet kittens will be neutered before leaving.
What type of health guarantee do you provide? A health contract will be give with all kittens
At what age do you allow kittens to leave your home? 13 weeks
What vaccines do you do before the kitten goes home? Kittens come fully vaccinated.
What are your prices? Prices are €950 euro for a pet kitten and p.o.a. for a breeder or show kitten.
What food do you recommend? We recommend royal canine dry and Barkin Bistro raw food.
Do you ship? yes we ship worldwide.
Do you offer stud service? No, our cats are at closed stud
Once we purchase a kitten what kind of updates do we get? We can send regular photos and updates on their development

Cat Questions
How are hybrid cats with other pets? Bengals are very friendly and get on well with other pets
What do the different qualities mean? Some cats from other breeders may not come from as good quality breeding than others.
What type of cat litter and litter boxes do you use? We use wood based cat litter.
Do hybrid cats get along well with dogs? YES
How are hybrid cats with children? Very affectionate
Do hybrid cats have different health issues? All pedigree cats would have more health issues than none pedigree cats.
I have heard they have sensitive stomachs, is that true? Occasionally some cats may have sensitive stomachs.
Do they use the litter box faithfully and how many boxes do we need? All kittens are litter trained when they leave and you will need One for every two cats.
What we provide & Our breeding ideology

Thank you for your interest in a Sunstorm Bengals. We take great pride in the care of our Bengals.


REGISTERED PUREBRED KITTENS...
A kitten from a registered ethical breeder comes with a pedigree that proves it is the breed they say it is.
Unregistered backyard breeders just breed cats that look like the real thing.
The only difference between kittens and designers bags (aside from the fur!) is that kittens from registered ethical breeders dont cost more.
In some cases they cost less especially when they have vaccinations, microchipping and desexing included in the price.
Registered ethical breeders follow the standards set by their associations and breed for love not money.


WHAT WE STAND BEHIND:
We let our kittens leave at 13 weeks old.
Kittens are fully vaccinated
Kittens will be microchipped by our vet
Pet kittens will be neutered
Kittens will have been wormed several times and be free from external parasites
Kittens will be litter trained
Kittens will be registered with Tica either on the Active register or Pet register
Kittens will leave with a four generation pedigree
You are also very welcome to phone me anytime to ask questions about your kitten if you have a problem.
On the kitten leaving you will be asked to sign a kitten contract.

Kittens can be reserved with a deposit €250 for a pet kitten , €500 for a show/breeder kitten - all deposits are un-refundable.
Please note there will be no cash refunds.
All our kittens bought on the pet register will now be neutered,  If they are not already neutered they must be neutered by 6 months of age, registration papers will be withheld until I receive proof from your Veterinary Surgeon of neutering.

Due to the risk of introducing contagious infections and diseases and because our kittens are born and raised mostly in our bedrooms in our home we prefer that prospective owners select their kittens from pictures provided on our website. We will gladly attempt to provide accurate and appropriate good quality photos of kittens in order that selections can be made.We have never had any new owners be disappointed with their kitten when they have arrived to collect him/her. Once decided, it is preferred that you come pick up your new kitten in person but we will ship when necessary.(Overseas only)
International flights depend on location & country requirements.

Our kittens are individually evaluated & priced according to how closely they meet the TICA standard. Kittens which closely meet the standard will have contrast, coloration, type & well defined patterns. (We can't guarantee wins from any show)


OUR BENGAL BREEDING GOALS:
: To raise happy,healthy,loving and very gentle,well socialized bengal kittens. Extreme contrast between spots and background colour. Big....dramatic markings that show the WOW factor.: Excellent long body,head type and super small ears. To produce bengal kittens with lots of glitter and smooth silky soft pelts. To reproduce the beautiful wild exotic look of the Asian leopard cat.

Unlike some other cat breeds, Bengals are not vicious, some but not all Bengals can be shy, this is a trait inherited from their ALC ancestors. Because the Bengal Cat has very highly developed instincts, if he or she feels threatened, or becomes scared, their instincts tell them to flee. Bengals are typically not at all aggressive . Their reaction to fear is to run away, not to attack. For this reason we prefer all our cats to go to indoor homes only. Bengals absolutely love dogs, they get along well with other cats and are wonderful pets for children.


PLEASE DO NOT BUY FROM BACK YARD BREEDERS!
There has been some horror stories about these so called breeders, selling kittens for pennies, not vaccinated, not wormed, not fed properly, kept in dirty sheds, not socialised, not registered, their mums not fed properly, these people buy pet quality or even less from other back yard breeders and breed them time and time again.
Visitor information
I often get asked if people can come to visit my cattery and cats. So I have decided to make an information page to help my clients.
Although I do understand that buyers may want to do a home visit, I also have to differentiate between genuine buyers and people that are just looking for a nice day out. For this reason I encourage buyers to choose a cat or kitten from pictures and video's on my website or Facebook page and pay the €250 deposit before visiting. I regularly do videos, photos and text updates and keep in touch with new owners so many choose not to visit until collecting their new kitten. If buyers prefer to choose a kitten in person then I charge a non refundable visiting fee of €250 euro to be paid before visiting. This will be your deposit once you choose a kitten. If you decide against buying a kitten then the visiting fee is not refunded but used towards the care of my cats.
Without wanting to sound rude, I am a reputable breeder and not a pet store, you cannot just turn up to buy a "off the shelf" cat or kitten. There needs to be some preparation before buying a pet and there are things you need to buy in advance of taking your pet home. Many of the foods we feed can only be bought online so will take a few days to arrive and it would be so stressful to take a kitten home without preparing first.
Visiting protocol : People will also often say "Oh we thought you had a cattery we can visit"
I do have a large spacious Cattery, this is a private space for my cats, it's their home where they feel safe. It is not open to the general public as we are a in home cattery. While my males, some females and females being bred are in my cattery, my kittens are born at raised in my home, often in very private rooms such as bedrooms. For this reason and also because of the ongoing covid pandemic I have a dedicated room for visits and collections with a separate entrance to my home. Due to a very bad reaction to the covid vaccine I cannot have booster vaccinations and I have allergies and asthma so I have to be very careful of the risk to myself and my family.  I am the main carer of my animals and I cannot risk being ill. There will be no access to any other rooms in my home and no use of the toilet or bathroom while at my property.  There are plenty of places on the way to me in all directions so please stop and do one last toilet stop before arriving at my property if needed.
Weather permitting and whenever possible collections will be done outside otherwise kittens will be brought to the designated room for viewing, as this room has an external door leading directly outside this is not a room that they live in or are used to so kittens will be held while in this room. If the mothers are still in my home, then they will prefer not to be brought into this room. Cats in the cattery can be viewed from outside of their external runs if they wish to come out. There will be no access inside of the cattery. Visits will be limited to two people at a time so it does not get too busy and noisy for my kittens. You will be given a allocated visiting time so not to clash with other visitors or with busy times in my working day. This has worked well for both myself and my clients over the past 13 years I having been breeding, from before and also during the pandemic. I ask that all visitors wear a mask and try to limit the time they are here. Thank you for reading my new visitor information sheet and for understanding the visiting rules.
Sales and Breeding Contract for Sunstorm Bengals Cattery





Alison Coxon : Sunstorm Bengals

New Owner :

Sale price :

Cat/Kitten Name : Date of Birth :

HEALTH GUARANTEE

Our kittens come to you with up to date vaccinations, wormed, flea free and in good health at time of sale, it will have been examined at least twice and given a thorough health check by our veterinarian. By signing this contract the buyer agrees that the kitten is in good health and condition at time of collection.

If the kitten is found to be in unsound health by a licensed veterinarian within 72 hours of leaving the breeders premises the kitten/cat shall be returned and the buyer may request a replacement with another kitten/cat of equal quality and value.This guarantee is valid provided there has been no contact with other cats and the kitten/cat has been kept on the same diet. If there is a minor problem and you choose to have it attended to by your Vet, then that will be at your expense. For the protection of the vendor's resident cattery population, a portion of the purchase price will be retained for FeLV, FIV and FCoV testing if the kitten is returned. All return shipping related expenses are the responsibility of the purchaser. Once the cat/kitten leaves the possession of the breeder the breeder cannot be held responsible for any veterinarian bills or charges incurred for the cat/kitten. There will be NO monetary refunds of deposits, purchase price, shipping costs, veterinary expenses or any other costs. The buyer assumes responsibility of all expenses incurred in relation to the cat/kitten after the cat/kitten leaves the possession of the seller, as well as any expense incurred at the request of the buyer before the cat/kitten leaves possession of the seller. Buyer should be aware that these are LIVE ANIMALS and sometimes things may happen that we have NO control over..
 

If you have other cats, I also suggest you place the new arrival in quarantine during this time and follow the advice of your own Veterinarian in regard to the length of the quarantine period. You, or your Veterinarian, shall report to the vendor any medical problem within the guarantee period.Should the cat/kitten die within six (6) months as a direct result of an unknown at the time of sale congenital birth defect, the said cat/kitten will be replaced with a cat/kitten of comparable quality and value when available, only if an appropriate autopsy is performed by a licensed Veterinarian and a Veterinarian's certificate is provided as proof of cause of death. Trauma, abuse or neglect will void the guarantee. There are no guarantees against cosmetic defects such as lockets or tail faults that may occur after the kitten/cat has been shipped. The kitten/cat is guaranteed to screen HCM negative until the time it is bred from or reaches 2 years of age, whichever comes first. Once the cat has been bred, has a litter on the way or has produced a litter HCM guarantee becomes void.
The cat/kitten is guaranteed against FIP for 1 month after arriving. If the cat/kitten dies within 1 month of arrival then an autopsy must be performed by a licensed veterinarian to confirm FIP was the cause and the vet records must be open/provided to the breeder. There are many reasons why cats/kittens develop this disease, many different situations can affect them developing it and I have no way of controlling or predicting how my kittens are housed, fed, stressed or cared for after leaving my cattery. Therefore I cannot be held responsible if a cat/kitten dies after this 1 month period. Where a replacement kitten is applicable a fee of 300 euro will be charged for veterinary costs for the replacement kitten.

Our kittens are vaccinated against URI with live attenuated feline calicivirus >104.6 PFU and therefore positive test results for calicivirus may occur for up to 6 months after vaccination, for this reason we cannot be held responsible for such positive test results.

Undesirable behaviour issues such as, spraying, inappropriate urination, scratching furniture, etc. developing once the kitten has been turned over to the purchaser are not conditions for replacement. Under no circumstance is a cat or kitten to be destroyed prior to notification by the Buyer to the vendor. Any cat/kitten for which the Buyer expects replacement must be returned to the vendor (at the Buyer's expense) so that identity of the cat/kitten can be verified. "Unsound health" shall be defined as any condition which is "life threatening or "incurable" and shall not include curable conditions or infections such as colds, virus, bacterial infections or skin rashes.

BREEDING AND/OR SHOW ANIMAL

The purchaser agrees to and understands the following conditions :

There are no guarantees given on future health, show achievements or reproduction capabilities of kittens/cats sold with breed and/or show rights. The vendor verifies that there are no precluding reasons why a kitten/cat sold with breeding rights should be unable to produce/sire normal litters. Fertility is guaranteed provided the cat is bred at the buyers premises with at least 3 different proven cats, if no pregnancy's occur by 2 years of age a veterinarian must certify cat is sterile and the cat will be replaced by one of equal quality. All shipping and related costs for replacement to be paid by the buyer. There is NO guarantee's against pyometra, birthing problems or health problems/birth defects of kittens produced. Cosmetic defects such as lockets or tail faults that might occur after the cat is shipped cannot be guaranteed. The process of breeding is not to be taken lightly, and breeders must take measures to educate themselves on the subject.

This cat/kitten must not be resold, traded, given away or re-homed or placed, intact/unaltered into any other breeding program or housed on any other premises except the buyer's as identified in this contract. Males may not be offered at public stud.  No kittens produced shall be sold for breeding purposes in UK or Ireland without written permission from Sunstorm.   If the buyer should decide not to breed from this cat, no refund or part refund shall be given.

THE BUYER assumes responsibility of all expenses incurred in relation to the cat/kitten after the cat/kitten leaves the possession of the vendor, as well as any expense incurred at the request of the Buyer before the cat/kitten leaves possession of the vendor. If for any reason the cat/kitten is returned to the vendor, BUYER agrees to pay all expenses, including shipping costs, mileage and re-examination expense of vendors Veterinarian. This examination will include a complete 'viral panel' blood test for FELV, FIV and FeCoV viruses.

The cat/kitten shall not be sold,leased or given to any pet shop or research establishment.The cat/kitten shall not be sold, given or donated to any person without the vendors prior knowledge and consent.The cat/kitten shall not be taken from the purchasers country of residence without the vendors prior consent.In the event of the purchaser being unable to maintain the cat/kitten it shall be returned to the vendor.No cash refunds will be given for any reason.

THE VENDOR also wishes that the buyer(s)does not sell to or trade with any breeder located within the same area as the vendor. The Purchaser(s) further understand(s) that if there is a failure to keep any part of this contract, or if the kitten is neglected, maltreated, or does not receive adequate medical care, the purchaser will surrender the said kitten to the vender unconditionally and without financial restitution or compensation.

It is advisable to take out pet insurance for any veterinary costs that may occur.


PET KITTENS

The purchaser agrees to and understands the following conditions :

The cat/kitten described above shall not be used for breeding purposes. The cat/kitten will be registered with TICA on the Non-Active register.
This is a condition that this cat/kitten must never under any circumstances be bred from.

Sunstorm Bengals agrees to provide registration papers for this cat/kitten upon presentation of a veterinarian's certificate of spaying/neuter
-The kitten has been purchased as a pet and will come to you already neutered by our trusted vet.
-The kitten shall not be sold, leased or given away to any pet shop or research establishment.
-The cat/kitten shall not be sold, given or donated to any person without the vendors prior knowledge and consent.
-The cat/kitten shall not be taken from the purchasers country of residence without the vendors prior consent.In the event of the purchaser being unable to maintain the cat/kitten it shall be returned to the vendor.No cash refunds will be given for any reason.
-The purchaser promises that the kitten will be kept in appropriate conditions for his/hers health and welfare and will be fed a suitable diet for his/her age and condition.
-Will receive regular booster vaccinations from veterinary surgeon.
-Will receive all necessary veterinary care to maintain his/her good health. It is advisable to take out pet insurance for any veterinary costs that may occur.

The purchaser further understands that if there is a failure to keep any part of this contract, or if the kitten is neglected, maltreated, or is failing to receive adequate medical care, the purchaser will surrender said kitten to the vendor unconditionally and without financial restitution or compensation and that the breeder will take the purchaser to the small claims court up to the value of €2000.




SIGNED by the above mentioned Purchaser(s):

SIGNED by the above mentioned Vendor :

IN CASES WHERE A CONTRACT IS NOT SIGNED, FULL PAYMENT AND/OR TAKING POSESSION OF THE CAT/KITTEN WILL BE SEEN AS ACCEPTANCE OF THE TERMS AND CONDITIONS OF THE CONTRACT.



Breeder :
What to look for in a breeder



Things To Ask and Look For In A Breeder/Cattery






The Cattery:


When you visit their cattery you should find it clean and odor free every time you visit (even on short notice) Exception would be the males - they are never odor free :) and are usually kept outside unless someone is lucky enough to have one that does not spray.
Cattery should be inspected and certified by at least one of the cat organizations (TICA Outstanding Cattery, TIBBA Cattery of Distinction...) If they are not certified ask them why?
Outside enclosures should be large enough for the cats to play and have an area that is completely enclosed for them to sleep and keep warm in (like a dog house).
There should not be any exposed wires for them to catch their feet on and no wire enclosed bottoms.
Note: if the cattery has been inspected and certified a Veterinarian will have already checked on the enclosures and made sure they fit the requirements of the cat associations.

The Cats:
You should ask to see and be able to immediately see the Vet records for the parents of the kitten you are interested in.
You should ask about Vet records and see that they show all the adult cats have been properly vaccinated and seen by a Vet within the last 12 months.
The breeder should be able to easily pick up any cat in their home to show it to you, if they can't, they don't spend much time with them.
The parents should be tested for Feluke/FIV even in a closed cattery.
The Bengal parents should be HCM tested (when age appropriate) and the results should be available to you. Please keep in mind a cat can be tested and be negative and a week later develop the disease so there is no sure thing with this type of testing.
The cats should have clear eyes, clean ears, no nose discharge and should smell and feel clean. If that is not true - you are buying a sick kitten.
You should be able to see when asked the pedigree for the kitten you are interested in and you should be given an copy when you receive your kitten.
All cats should at least be TICA, ACFA or CFA registered. Never buy a cat without registration paperwork. If breeders don't register their cats there is a reason - usually it is because they are no longer allowed to by the organization.

The Breeder:
They should have signed the Code of Ethics for the organizations they belong to.
Should have a health guarantee that includes replacement for any genetic disorder.
The breeder should provide you with the name of their Veterinarian.
You should receive updated pictures on a regular basis once you pick out your kitten
A good breeder will not let a kitten leave their home before 12 weeks of age and if leaving at 12 weeks it must be by pickup only, no flying before 15 weeks.
A good breeder will insure your kitten has at least two sets of shots and two wormings before you pick it up.
They should be feeding an all natural premium cat food and supply you with enough for at least a week when you receive your cat.
A kitten sold as a pet should be neutered before it leaves the cattery and that should be part of the purchase price quoted. Keep that in mind when looking at prices. The only thing your kitten will need when it leaves our cattery is it's final set of adult shots. All else has already been done for you and is included in the price.
The breeder should encourage and/or insist you take the kitten to the vet for a check up when you get it home (within 4 days or so)
The breeder should answer any questions you have and you should feel you have met someone you can trust when you are working with them. This is someone you should/will have a long relationship with since they will want to know how their kittens are doing in their new homes and should want to see pictures to see how their babies are growing! If you find a breeder you like stick with them - better to wait for a good kitten then take a chance on a new breeder.
When you contact the breeder they should tell you to make every attempt to make the trip to see the cattery and select a kitten and then again to pick it up.
A good breeder will take the cat back at any time for any reason if you are no longer able to keep the cat. Keep in mind that does not mean they will refund your money. If it is still a kitten they may be able to resell the kitten and you can ask them about a partial refund if the cat is able to be placed in a new home.

To Protect Yourself:
Check the state Lemon Law division for pets and see if there have been any complaints.
Check with TICA, ACFA, TIBBA, TISBA... to see if there are complaints. Never buy from a cattery that is not a Cattery of Distinction or an Outstanding Cattery in at least one of these organizations. If they are not certified there is usually a reason they can't be.
If you find a cattery you like and they don't have a kitten you want either put down a deposit or ask them if they know of a cattery to recommend to you. An ethical breeder will refer you to another cattery that they feel meets their standards of excellence.
NOTE: These express our personal opinion only.
Are Bengal Cats Hypoallergenic?
By Nial Thomson for Bengals Illustrated
Hypo is the Latin word for low, deficient or insufficient. When hypo is combined with allergenic it forms an adjective, which is defined as having a decreased tendency to provoke an allergic reaction. There does seem to be a consensus among Bengal cat breeders that Bengals produce either no reaction, or a reduced reaction in people who are known to suffer from cat dander allergies. So why is that? I have my theory, but first let's find out exactly what causes some folks to have an allergic reaction to a cat. The simple answer is dander. Cat dander consists of microscopic pieces of dry cat skin and dried saliva. Cat dander particles are tiny, about one-tenth the size of dust mites. These dander particles easily become airborne and will quickly be present throughout a home where a cat resides. The problem isn't really the dry skin particles themselves, but a glycoprotein in and on the dander, called Fel D1. Fel D1 is found in a cat's sebaceous glands under the skin and in a cat's saliva. This protein is the culprit for susceptible people who are exposed to it. They come into contact with a cat or an environment housing cats and their immune system is launched, which then releases an inflammatory chemical known as histamine. Typical reactions include sneezing, runny nose, congestion, itchy eyes, rash or hives and for those severely affected, asthma attacks. There is plenty of anecdotal evidence from breeders and pet owners alike, suggesting that Bengal cats are more easily tolerated by those afflicted with allergies. To my knowledge there has never been a scientific study done to determine if Bengals produce less Fel D1 than other breeds of cats, but that is certainly in the realm of possibilities. Myself, being someone who is mildly allergic to cats, but has no reaction to Bengals, I have my own theory as to why this is. The Bengal cat is blessed with a very short pelt-like coat that requires little or no maintenance from the cat's owner. The Bengal cat can Allergic to cats?maintain its coat with much less grooming than many other breeds of cat, and it has been my observation that grooming is less frequent, and the sessions are shorter in duration. This leaves less saliva to dry on the hair to ultimately become dander. In addition, in a normal household situation, healthy Bengal cats shed considerably less than other breeds. This lack of shedding, keeps dander that is still attached to the hair shaft from spreading as easily throughout the home. Several years ago I received a call from a woman who had heard that Bengal cats were hypoallergenic. She wanted to get a cat as a family pet, but her eight year old son was very reactive to cats and would break out in hives within five minutes of coming in contact with one. I cautioned this woman that Bengal cats are not allergen free and that her son may very well still break out. She insisted on coming over, with her son, to test it out. We herded the majority of the Bengals into another room and had the boy sit on the floor with just a couple of cats to pet, while we waited to see if he would start itching. Fifteen minutes passed and he was happily playing with the cats, reaction free. The mother was delighted and asked if all the cats could come out, as she removed the boy's shirt. For the next hour her son basically wallowed around the floor, shirtless with the Bengals, and did not have even a hint of an allergic reaction. On the other hand, the owner of the pet food store, where I buy our cat food, wasn't as lucky as the boy. She had never seen a Bengal in person before, so one day I brought one of our cats in to visit. She had mentioned that she was allergic to cats and her reaction was always sneezing and congestion. She marveled at how gorgeous the cat was and pet him quite a bit. Sure enough she soon started to feel congested and got that need to sneeze sensation. Even though she stated her reaction was less severe than normal and there was no full blown sneezing attack, it was clear that in her case a Bengal cat would still cause her to suffer. In conclusion, I think we can say that Bengal cats are hypoallergenic if you go by the true definition of the word. They do seem to invoke less of a reaction in allergy sufferers. However, breeders should not embrace the term, using it in advertising and to describe the Bengal cat, because Joe Public has been led to believe that hypoallergenic means allergen free. Perhaps one day there will be a study to determine Fel D1 levels in Bengal cats and more light can be shed on exactly why this breed appears to be less allergenic than others.
WHAT IS FELINE INFECTIOUS PERITONITIS

FIP is a unique disease in that it is triggered when the commonly present gut corona virus in cats (FeCoV "feline corona virus") is forced by external stresses to undergo mutation to a much more dangerous virus (FIPV "feline infectious peritonitis virus"), which in turn tricks the immune system into attacking and killing the cat this way.
The cat's macrophages, which should normally engulf and overcome any virus invader, are instead used as incubators for virus replication and the antibodies produced that should normally be used against the virus, are instead used to attack and destroy the cat.
It is a chronic disease by its autoimmune type but can kill very much faster than most autoimmune diseases.
From these stresses to FIP, it is a 7 to 15 day period to the first phase symptoms of fever, weight loss and leucopenia. It takes an average of 36 days from the stresses to diagnosed effusive form of FIP, called "wet FIP" …. and it takes considerably longer for "dry FIP" to be diagnosed.
Almost all cats have some form of Coronavirus about 95%, FIP is very rare only about 1 in 225 cats infected with coronavirus will go on to develop FIP. Most strains of coronavirus are harmless and do not cause disease. Cats infected with coronavirus generally do not show any symptoms and an immune response occurs with the development of antiviral antibodies. In a small percent of infected cats either by a mutation of the virus or by the immune response not reacting in the normal way, the antibodies that are supposed to protect the cat turn against it and the infection progresses into clinical FIP. No one knows why coronavirus mutates into FIP in some cats and not others or which cats will become infected.
FIP is not a contagious disease, since by the time the cat develops clinical disease only a small amount of virus is being shed. (Feline "Infectious" Peritonitis) was named many years ago, before it was understood that FIP is not contagious. the FIP virus is not transmitted cat to cat each cat has to mutate their own FIP virus to get the disease
Coronavirus is contagious but as stated virtually all cats have the coronavirus. It is not understood why, in a very small percentage of cats, it develops into autoimmune-like disease (FIP).
The wet form of the disease progresses rapidly ( 2 to 4 weeks), and the cat may quickly appear pot-bellied due to fluid accumulation in the abdomen. There is no diagnostic test for clinical FIP. The tests detect the presence of coronavirus antibodies in a cat, but these tests cannot differentiate between the various strains of coronavirus. A positive result means only that the cat has had a prior exposure to coronavirus, but not necessarily that it will mutate into FIP. Low titers indicate a small amount of coronavirus antibodies, while high titers indicate much greater amounts of antibodies. A healthy cat with a high titer is not necessarily more likely to develop FIP or be a carrier of an FIP-causing coronavirus than a cat with a low titer.
To date, there is no way to screen healthy cats for the risk of developing FIP, and the only way to definitively diagnose FIP is by biopsy, or examination of tissues at autopsy.
The way clinical FIP develops as an immune-mediated disease is unique, unlike any other viral disease of animals or humans. There is no treatment and no cure. No one can predict which cats will develop FIP it happens in all cat breeds so if you own a cat there is always a small risk it could develop FIP.


WHAT IS GIARDIA

Giardia is a protozoan parasite. The first life cycle is a fragile, feeding form that lives in the gut of infected cats. The second is a hardy cystic form that is shed in faeces. The cystic form can survive several months especially in moist environments, and is resistant to freezing and water chlorination. Giardia is generally considered the most prevalent parasite in cats. A cat becomes infected after swallowing the cyst stage of the parasite. It's transferred through contact with infected faeces, licking fur after contact with a contaminated surface such as a litter box, or drinking from contaminated water. Cats can be infected with Giardia without developing clinical signs. After exposure, the incubation period is one to two weeks.
Symptoms of Giardia is a foul-smelling diarrhoea ranging from soft to watery, often with a greenish tinge, vomiting, and dehydration. Diarrhoea can be intermittent, and symptoms can persist for several weeks, with a resulting gradual loss of weight loss. The disease is not usually life threatening, but can be serious in kittens or older cats. Panacur is the most effective treatment of Giardia.


WHAT IS TRITRICHOMONAS FOETUS

Tritrichomonas Foetus (TTF) was first recognized in the USA in 1999. This single-celled protozoa lives in the feline colon, and testing is not yet routine at most veterinary clinics. Faecal floats will not detect TTF and it can easily be misdiagnosed as Giardia. A specific TTF test is required to diagnose TTF infection. Infected cats may or may not have diarrhoea. After a cat is infected it could be days or even years before there are symptoms.
Infection is generally spread through shared litter boxes. TTF can live for several days in a moist stool. If untreated, about 90% of infected cats will resolve their diarrhoea issues within two years; however, they will remain carriers and can infect other cats. There is a theory that prolonged exposure to TTF will cause inflammatory bowel disease. Ronidazole is the only drug that has proven successful in eliminating TTF


WHAT IS COCCIDIA

Feline coccidia is a protozoan organism that is common to cats. Coccidia most often affects kittens rather than older cats and symptoms include: watery diarrhea, depression, dehydration, loss of appetite, vomiting, weight loss, abdominal pain and possibly hemorrhage. Coccidia infection can result in death.Older cats can shed oocysts in their feces yet remain asymptomatic until stressed. Stools that contain immature protozoa (oocytes) are harmless until allowed to mature in an open environment. The longer cat stool is allowed to decay, the more chance the oocytes have to develop. Sporulated oocysts can survive as long as one year in moist, protected environments. Infection is caused when kittens and cats come into contact with infected fecal matter, so it's important to scoop litter boxes often. The most effective treatment against this parasite is Baycox.
Basic Cat Behavior

It is certain that the cat thinks of a human differently than it does other cats (i.e., it does not think of itself as human, nor that the human is a cat). This can be seen in the difference in body and vocal language it uses with the human, when compared to how it communicates with other cats in the household.

Some have suggested that, psychologically, the human keeper of a cat is a sort of surrogate for the cats mother and those adult domestic cats live forever in a kind of suspended kitten hood. With proper training and reinforcement of social behaviour, poorly socialized cats can become more social over time. A cat that has been made a 'stray' or has been mistreated, can in time, with patience and understanding, become a social, family cat.

Understanding your cat is an important part of your relationship with your pet. A cats body language can tell you a lot about its mood. Cats communicate a variety of messages using cat body language. Examples include arching their backs as a signal of fear or aggression, and slowly blinking to signal relaxation.



Cats Tail
As is the case with dogs, the tail is often used as a signalling mechanism. A flick or twitch can indicate minor irritation and a tail held high suggests confidence. In addition, a cats tail may 'wag' or move rapidly to express a state of conflict. A cat who chooses to lie with its stomach and chest exposed conveys happiness, trust and comfort (this is also typical of overweight cats, as it is more comfortable for them), however, a cat may also roll on its side/back to be able to defend itself with all four sets of claws.
When the tail is erect for its full length, it is used as a greeting to another cat or to a friendly human and is an invitation for contact rubbing. The tail that is wrapped against the cats body may mean that the cat is contented or for a nervous cat, it is a defensive posture.


Cats Ears
If the tail alone does not give you enough information about what the cat is thinking, take a look at their ears. Cats involved in a standoff will make threatening sounds, however, to really understand what is happening, check the ear position. The defenders ears will lie down flat against the head for protection.
The cat whose ears are lying flat, but with a twist, so that the tips of the back of the ear can be seen from the front, is the aggressor. Forward-pointing ears are used by confident, curious, cats to listen for sounds in front of them. A cat that is hunting prey (or playing) will also keep its ears forward to collect as much auditory information as possible in order to execute a successful pounce.


Cats Eyes
In a standoff situation, the defending cats pupils will be dilated to provide the cat with wider peripheral vision, an advantage in anticipating an attack. The aggressors pupils narrow to give him better depth perception, an advantage in judging where to attack. While dilated pupils can indicate fear, they are also indicative of the light conditions. In dim light the pupils expand to allow as much light to enter the eye as possible.
Perhaps one of the most wonderful of feline body signals, but one that is most often missed, is the slow eye blink. Blinking is a very powerful communication used between cats when they are sitting or lying down. Slow blinking towards a cat shows that you are not a threat and they will most likely return the slow blink telling you that they feel comfortable with you and they like you. It is also a great way to say 'I love you' to your favourite feline companion.



Greeting
Cats normally greet each other by rubbing faces. When a cat greets you by standing on its hind legs, it is simply trying to reach your face. If you were to lower yourself so your face is within reach, your cat will rub their face with yours. This is only done to humans that the cat trusts.
Another friendly way for a cat to greet its owner is to roll on its back, stretching its legs as far as possible, yawning and exercising its claws. The "belly-up" position is a very vulnerable position, it indicates total trust of the person involved. It is a lazy way for the cat to greet its owner, a more active cat would probably rub itself against your legs. Cats have scent glands on the temples, around the mouth and at the base of the tail. When a cat rubs itself against you, it is rubbing off some of its scent to say "this is mine". Only other cats can smell this scent.


Kneading
Kneading is when a cat extends and retracts its claws, usually when it is resting on its owner's lap. This behaviour comes from kitten hood, kittens knead their mother while suckling to make the milk flow more freely. Adult cats will do this when they feel safe and contented. They see their owners as surrogate mothers and, as pampered pets, will retain some kitten characteristics through their adult life. If the cat dribbles or sucking of the owners clothes happens whilst kneading, the cat in question will probably have been taken from its mother too early and never had a chance to grow out of the behaviour naturally. These behaviours are usually for life.



Flehmening
Flehmening is when a cat screws up its face, the lips curl back baring its upper and lower teeth allowing more chemical aromas to register in the Jackobsen's Organ. The Jackobsen's Organ is situated in the roof of the mouth in two sacks. In wild cats this aids in knowing the "lie of the land", and aids in knowing what other animals may be in close proximity. In the domestic cat this is not so important as with the wild cat and the flehmening reaction is not so obvious. The Jackobsen's Organ is also connected to the part of the cats brain concerned with sexual behaviour and appetite.


Gifts
Owners of outdoor cats will eventually be presented with gifts of dead creatures, such as mice and birds. For the cat, this is perfectly natural - this behaviour should never be punished in any way. A Queen will bring prey home to her kittens to introduce them to hunting. For this reason, the behaviour is most often seen in female cats. Neutered cats that have no kittens of their own and male cats will also bring gifts home.


Burying Faeces
A subordinate cat will bury its faeces so as not to demonstrate its presence to more dominant cats. A dominant cat will leave its faeces uncovered. A cat kept on their own will bury its Faeces by scratching on the litter tray, this has nothing to do with cleanliness - it is a sign that the cat feels that its owner is dominant. In households with more than one cat, you will often find that one or two cats leave their faeces uncovered, whereas the rest will cover it up.


Wagging Tail
A wagging tail could mean the cat is angry or can mean that the cat is feeling indecisive - it wants to do two things at once and cannot make up its mind which action to take.


Eating Grass
Eating grass often occurs when the cat needs to clean out its stomach by vomiting (maybe to get rid of furballs). If your cat does not have access to grass, house plants or anything similar will be used by your cat. Vomiting will occur soon after the cat has eaten grass. It has been said that cats eat grass to obtain "Folic Acid", something that cats need in minute quantities for its well-being. "Folic Acid" cannot be obtained from meat.

Credits:

www.animalcorner.co.uk/pets/cats/cat_behaviour.html
The Breed in general
The Bengal cat is a distinct, unique breed of spotted domestic cat derived from the ancestral crossing of a domestic cat such as an Abyssinian, American Shorthair, Burmese or Egyptian Mau with an Asian Leopard Cat. The name "Bengal cat" is derived from the Latin name of the Asian Leopard cat, Feline Bengal catensis. The domestic Bengal cat has inherited the exotic, stunningly wild spotted pattern from the Asian Leopard Cat, found in the wild in central Asia. This beautiful breed of cat is very loving, affectionate and friendly whilst retaining the uniqueness of it's wild ancestors.

The main credit for this breed is given to Jean Sudgen of the USA. Jean Sudgen crossed a black short haired domestic cat with a female Asian Leopard Cat in 1963. Offspring were produced proving that a second generation was possible. Further experiments were interrupted due to a death in the family.

Later in 1975, Jean Sudgen, now Mrs. Jean Mill, acquired eight female hybrids from a geneticist called Dr. Willard Center Wall, who had been involved in a breeding program where Asian Leopard Cats were crossed with domestic cats as part of a study of feline Leukemia. Jean Sudgen Mills began again to further the new breed. This was the beginning of the exciting and exotic Bengal cat breed. Finally in 1984, the domestic Bengal cat we know today became recognized by the International Cat Association.

Jean Mill is based today in California and is still breeding Bengal cats. She is also actively involved in the future of the Bengal cat breed. For more information about Jean Mill, please visit Jean's Website.

Conformation:
The Bengal cat is a medium to a relatively large shorthaired exotic cat. Bengal cats vary in size with the male between fourteen to twenty pounds and females slightly smaller at ten to twelve pounds. Bengal cats are very muscular cats with long bodies, thus appearing larger. They are also sturdy and substantial in appearance.

Heads should be wild looking and formidable. The face should have a feral expression with small rounded ears, intense facial markings, and pronounced whisker pads. Careful selection of breeding ensures that the Bengal cat remains loving and friendly with a superb temperament, whilst retaining a strong physical resemblance to it's wild ancestor.

The Bengal Personality:
The domestic Bengal cat (must be four generations or more removed from it's wild ancestor) are highly intelligent and affectionate cats. With their enchanting and strikingly beautiful wild appearance, They are really like having a tame piece of the wild in your own home, whilst still being so dependably sweet natured and delightfully loving.

The Bengal cat can be very mischievous and boisterous. They are active cats always ready to play. You can easily leash train them, and teach them to fetch, and play other games. They are also very vocal cats, always eager for human companionship and approval. The Bengal cat mixes well with children and other animals. With their sleek, soft coat, which is more like a pelt than ordinary cat fur, sufferers of allergies claim that the Bengal cat brings out fewer reactions.

The Bengal cat is also unique in that these cats actually love and enjoy water. They will play for hours with a slightly running tap. The Bengal cat will delight children and adults alike with its playful antics with water.

The Bengal cat will grace any home and be a loyal life companion. They are also very people oriented cats, so it may be worth considering obtaining two Bengal cats for company if you are likely to be out of the home all day. You will find that they are very "dog-like" in personality, following you from room to room in your home and always greeting you with a loving welcome. Whether male or female, this exotic, unique cat will hold a place in your heart forever like no cat as ever done before.

The Bengal Cat
- The Bengal cat makes a loving, intelligent housecat. Curious and entertaining, some even enjoy playing in water and bathing with their owners. They enjoy the companionship of both adults and children and usually adapt to other family pets. Some owners regularly walk their Bengals on leashes. Exercise, nutritional and immunization requirements are the same as for all domestic household cats.
- The domestic Bengal (four generations or more from the Asian Leopard Cat) has normal litter box habits, is recognized in several cat fancy registries and currently makes up the largest number of cats competing in The International Cat Association (TICA). Also recognized by registries such as AACE, ACF, ACFA, CCA, FIFE, GCCF, FIFE, NZCF and QICC, this entertaining and affectionate cat is finding its way into more and more living rooms. 
Colors and Patterns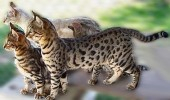 The first registry to recognize the Bengal, The International Cat Association (TICA) recognizes several colors (brown, seal lynx point, mink, sepia, silver) and patterns (spotted and marbled) for Championship competition. In the New Traits class, any other color may be shown, as well as longhair bengals.

Brown Spotted Tabby Bengals
The brown spotted tabby (leopard spotted) Bengals have dark spots on a lighter ground color ranging from gray or tawny to sorrel to golden, very rufused (bright orange) and to a rich mahogony. Note: The Asian Leopard Cat is considered a brown spotted tabby in the cat fancy and ranges somewhat in color.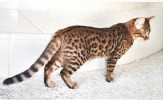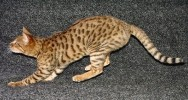 Brown includes variations of tawny, sorrel, golden, hot rufus and mahogany. 

Seal Lynx Point, Sepia and Mink Spotted Tabby Bengals
The seal lynx point (blue-eyed) and seal sepia (gold or green-eyed) spotted tabbies (fondly referred to by breeders as two of the "snow" leopard spotteds) have ivory backgrounds with contrasting spots. The seal mink (aqua or green-eyed) spotted is a combination of one each of the above pointed Siamese and the Burmese sepia genes. Extreme contrast between the markings and the ground color is desirable in each spotted color.




Spotted Seal Lynx Point Bengal
Spots of all colors and patterns vary in color, size, rosetting and intensity but preference is given to random and horizontal pattern alignment with wide spacing or "acreage".

Marbled Bengals
- The classic tabby gene creates the marbled Bengal and represents a change of pattern from spotted to swirled or marbleized. This dramatic pattern is comprised of swirls of brown spotted colors flowing in a horizontal fashion instead of traditional spots. Preference is given to the more horizontal, flowing and "ocelot-like" patterns. The "marbled" pattern can also occur in lynx, sepia and mink color/patterns (see above).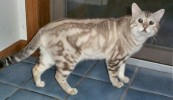 A Brown Marbled Tabby and a Seal Lynx Point Marbled Tabby

Other Colors & Characteristics
the high shine (usually on a clear, nonticked coat) that has been discovered and developed in the Bengal is a welcome addition to the breed .

"Rosettes," the dark outlining of coat markings (both in the spotted and marbled) that are around a third rich color, are found in many Asian Leopard Cats and other wild cat species. Rosettes showing two distinct colors or shades, such as paw print shaped, arrowhead shaped, doughnut or half-doughnut shaped or clustered are preferred to single spotting but not required.
"Fuzzy uglies" Some Bengal kittens go through what is referred to as the "fuzzy uglies". A beautifully clear kitten at three weeks old may begin to acquire a ticked kitten coat at four to five weeks old. This coat begins to clear again to higher contrast at about 12 weeks and is again breathtaking by 6 months.
"Glitter"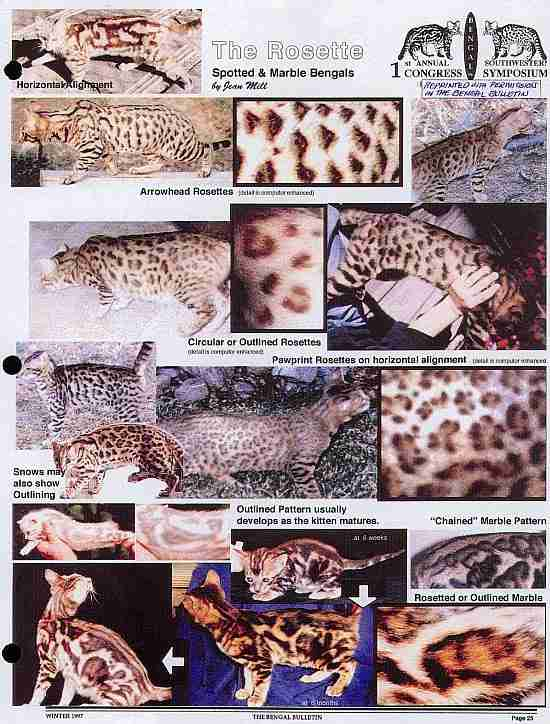 Please Note: There are a variety of other colors (such as blue, black, torbie, etc.) and characteristics (long hair, flat face, etc.) of the Bengal cat which are derived from the domestic genes that DO NOT meet the Bengal standard in TICA... but which may be quite beautiful and shown in UFO and other registries.

Conformation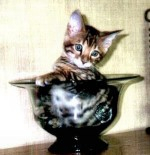 - Careful selection ensures Bengal cats that are friendly, loving domestic cats that bear a strong physical resemblance to their Asian Leopard Cat ancestors.
- Bengals are relatively large-boned, shorthaired cats with males averaging from 10 to 15 pounds and females usually smaller. The face should have a distinctly non-domestic expression, with small, rounded ears and intense facial markings.
Evaluation
- Kittens are categorized as to their quality when compared to the accepted TICA Bengal Standard. The Standard for the Bengal cat describes the ideal. Kittens are sold either as pets to be altered, breeders and/or show quality cats. Show quality is the best of the best. Breeder quality is a good cat that has something lovely to offer the breed and no faults or perhaps one or two less desirable traits that can bred out in a generation.
- Pet quality is a cat that for some reason the breeder feels does not qualify to be offered as a breeder or show cat. This might be due to a visual undesirable trait such as a spot of white color on the throat or groin (referred to as a locket) or a genetic defect that might put offspring at risk for ill health.
Note: Bengal standards as accepted by other cat registries in other countries may vary somewhat. 

Credits:
www.bengalcat.com/aboutbengals/bengal.aspx
The Bengal cat ...more info

About the Bengal Cat

The Bengal is a relatively new breed of cat which was first bred in the U.S.A and was originally created by crossing an Asian Leopard Cat with a domestic cat. The domestic Bengal derives its name from the Latin name of its wild ancestor, Felis Bengalensis (Asian Leopard Cat). Whilst the domestic Bengal is similar in appearance to the Asian Leopard cat and its genetic makeup contains a contribution from that wild cat species, its temperament is however purely domestic. The goal in developing the domestic Bengal cat breed was to preserve a strong physical resemblance to its beautiful wild ancestor and, at the same time, the new domestic breed was designed to be a pleasant and trustworthy family companion. Therefore, the conformation of the Bengal is definitely reminiscent of its ancestors.

The general build of an Asian Leopard Cat (Felis Bengalensis) is similar to a normal domestic cat but with somewhat longer legs and a longer back. They have a relatively small head with a short narrow muzzle, large eyes (because of their nocturnal habits and a thick tail of about 11 to 14 inches length. Body length varies between 25 to 32 inches and they weigh between 7 to 15 pounds. Size and weight vary between sub-species in different geographical regions but the males are generally heavier than the females.

There are around ten sub-species, showing distinct variations in body colour. For example, cats in the Northern regions tend towards reddish brown spotting on a yellowish-grey background and leopard cats from more humid regions tending to be more ochre-yellow to brownish. The cats' beautiful markings, which have in many ways been their downfall by attracting the attention of the fur trade, are striking and show some variation between individuals. All sub-species have a spotted or ringed tail, with a black tail tip, four black bands running from the forehead to the back of the neck, breaking up into elongated spots on the neck and shoulders, often forming a "broken necklace". The round black ears have a white spot on the back called ocelli, and all cats have a white underside, throat and cheek-flashes. The underparts are spotted on the white background. The body markings can be solid or rosetted and sometimes show marbling.

Bengal cats are the descendants of a cross between an Asian Leopard Cat and a domestic cat, originally Egyptian Maus, Abyssians or Ocicats amongst others. A first generation cross is called an F1. An F2 is the progeny of one F1 parent and one domestic parent (usually a Bengal these days) and an F3 has one F2 parent and one domestic parent. F1 males are usually sterile and F2 and F3 males also often have fertility problems. The early stages of breeding programmes are therefore usually carried by crossing female Asian Leopard Cat hybrids with male domestic cats. The fourth generation removed from the wild and beyond can be considered a domestic animal and is officially a Bengal rather than a Leopard Cat hybrid. Given that the breeding programme will have been explicitly aimed at producing good pets, the resulting Bengals should display the beautiful markings and unusual behaviour of the wild cats, whilst inheriting the domestic cat's social nature and adaptability to human lifestyles. There is some debate as to whether the 'F1' hybrid cats are suitable for pets but, as they move a couple of generations away from the wild, certain individual hybrid cats with social natures and good 'upbringings' certainly make good, if highly specialised pets. Even those which are 'pet-worthy' however, are really only suitable for experienced pet keepers, able to understand and cater for their needs, and are by no means appropriate pets for the average family! Do not think from this that the early generations are "dangerous". Far from it, they are usually shy nocturnal animals that find it difficult to cope with a busy household. However, from the fourth generation onwards, they are well socialised and ready and willing to join in the hustle and bustle of the average family homes. Although this is often not usual with cats, they are particularly good with dogs who they seem to view as "just someone else to play with"

Bengals are intelligent and athletic and seem to look on everything around them as "can this be played with?". Their playful natures makes them ideal companions for the younger members of the family, who usually can do anything with them. The young humans can act out their fantasies and have the companion they want. So many times we have seen a young human walking around with an adoring Bengal marching alongside sharing the moment.

The goal in developing the domestic Bengal cat breed was to preserve a strong physical resemblance to its beautiful wild ancestor and at the same time the new domestic breed was designed to be a pleasant and trustworthy family companion. Therefore, the conformation of the Bengal is definitely reminiscent of its ancestors. The Bengal's head is broad and rounded and is slightly longer than it is wide. The nose is broad with a puffed nose leather. The muzzle is full and broad with a very light coloured, strong rounded chin and pronounced whisker pads created by the wide set canine teeth. The ears should preferably be medium to small with a wide base and rounded tips, pointing forward in profile. The eyes are oval, almost round. They are large but not bold and set on a slight slant toward the base of the ear. Nocturnal is a very appropriate description of the look. The Bengal is a large, sleek and very muscular cat with its hind-quarters slightly higher than its shoulders with a thick tail that is carried low. The Bengal should be alert and affectionate and its wild appearance is enhanced by its distinctive spotted or marbled coat which should be thick and luxurious. There can be both Black or Brown Spotted and Black or Brown Marbled Bengals, as well as Snow Spotted and Snow Marbled Bengals. The Spotted Bengals should display a sharper contrast of colour than other spotted breeds and they have larger spots. The spotting pattern on the Bengals tends to flow horizontally and rosettes often occur. There are also the wide, dark distinctive necklet(s) on the throat of the Bengals together with a strong, bold chin strap which may go from jaw to jaw which other breeds do not have. The light coloured spectacles should preferably extend into vertical streaks which may be outlined by an "M" marking on the forehead. Broken streaks or spots extend over the head either side of a complex scarab mark.

Marbled Bengals have a unique pattern of random horizontally aligned swirls which is not found in other breeds of cat. It is thought to have its origins in the combination of the wild genes of the Asian Leopard Cat and the domestic tabby genes. There is no other breed of cat which displays the gold or pearl dusting effect (glitter) of the Bengal. The texture of the coat is unique. It has the feel of satin or silk and it has been said that one should be able to identify a Bengal blindfolded. In recent years, as the breed has moved further away from its origins, breeders have been able to develop more distinctive rosetted patterns. This rosetting has enhanced the uniqueness of the breed, as has also the recent appearance of Bengals with almost white undersides. Even the voice of a Bengal is different from that of other domestic cats. It has been described as a cooing or chirping or as a strange gravelly sound. They are a very vocal breed and have a wide vocabulary that may on occasion be quite strident especially in unfamiliar situations. This should not be confused with aggression; it is an individual means of expression. They also love to play with water! Bengals seem to have preserved the self-assurance and confidence essential to their wild ancestors whilst acquiring an affectionate disposition and an extremely energetic, playful nature. The overall impression is of a miniature leopard with a loving dependable temperament. They are extremely sociable and interact well with other household pets. 

Credits:
http://bengalcatclub.co.uk/aboutbengals.asp